Losing gym motivation but still wanting to stay fit and fabulous? On-Demand Pilates Videos to do at home can provide you with a wide range of dynamic, sculpting, and meditative exercises and fitness activities to fit your space and schedule! Before you dive into practice with your
Free Pilates App Trial
, it's important to create the right atmosphere for motivation to get the most out of your home Dynamic Pilates TV session. Here are some essential suggestions to get the full Pilates benefits wherever you are…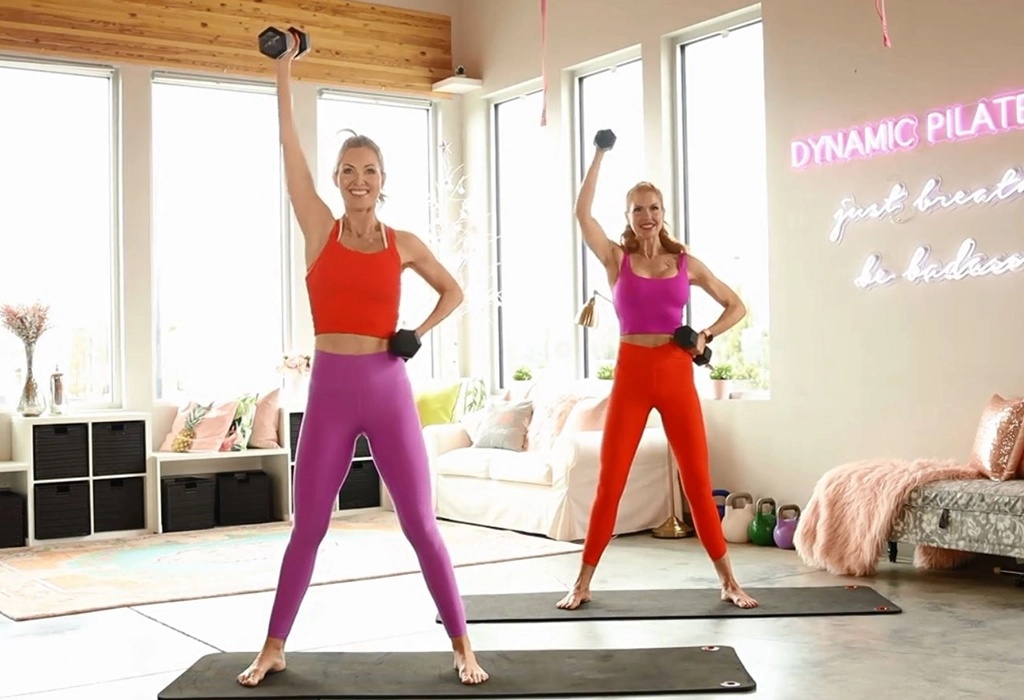 How Can Pilates Be Done at Home?
When you first think of Pilates classes, at home may not be the first setting that springs to mind! However, the full Pilates studio is going out of style while online Pilates from home is wildly popular, and also can be just as effective as more expensive, externally-scheduled group classes.
Dynamic Pilates TV provides an extensive catalog of the best at-home Pilates videos for any level or length of practice. Dynamic Pilates TV, as the best Pilates App for at-home classes, is like having your own private Pilates instructor at home!
You get full guidance and safety tips from our experienced and fully-certified instructors for Free with your subscription to help you feel confident in your ability. To help you plan the perfect workout, our videos are labeled with a Sweat level and Skill Level so you can avoid accidentally pushing yourself too far.
Our Dynamic Pilates App is available for Free on the Apple App Store, and the Google Play Store, so you can watch and follow along however you want with ease. With us, you can work out from anywhere, on your phone, tablet, or even some Smart TVs to invite friends and have a group workout session!
What to Wear to Pilates?
When practicing Pilates at home, you are truly dressing for yourself and your needs! Without the pressure faced in studios to wear luxury Pilates clothing, you have the freedom to discover the Pilates clothing brands that suit your style and type of exercise. At home Pilates gives you freedom in so many ways, so why not try out those sexy Pilates outfits at the back of your closet?
It is important to stay comfortable and cool when practicing Pilates, so your workout wear should be suitable for the category of exercise you are doing. Whether you are practicing for relaxation or to sweat, Pilates workout clothing should be non-restricting, breathable, and most importantly make you feel as confident as possible.
For more tips discover Tiffany Crosswhite Burke's expert advice on the best Pilates fashion in her amazing blog.
What is the Best Pilates Equipment for Home use?
At home Reformer Pilates is a great way to get a full workout, especially with the guidance you can get from our expert team of instructors. Foldable Pilates Reformers are perhaps one of the best Pilates machines for homes with limited or busy spaces. Stored compactly out of sight, the kids won't be able to use this item in your home gym as a climbing frame again! Discover some of our recommended Reformers in our full Reformer guide with all the information you need to make an informed choice.
A topic of conversation that we see in the Pilates community is the question: 'Is a Pilates Reformer worth it?' Answering this, we point out the diversity of modern Pilates, we love to use a range of Pilates accessories in our videos, not just the Reformer. From Bosu Balls to the Wunda Chair, you have a huge amount of choices to explore Pilates with the equipment you already have!
Matwork is also an incredibly popular category in the Dynamic Pilates TV Community, and all that it requires is a mat! It goes to show that you don't necessarily need equipment for Pilates classes, a workout with an easy-to-store, multi-purpose floor mat is a great way to begin your Pilates experience. If you are curious about Pilates, getting a mat and a Dynamic Pilates TV Free Trail to discover Pilates is a great, affordable way to introduce yourself to the wonders of Pilates!
On-Demand Pilates Videos that Fit around You!
A key benefit to Pilates from home is that you can explore your capabilities without pressure from others! You can choose when and where you practice based on what is right for you. So whether you're after that unique Pilates Glow or the Ultimate Burn, you can take control of your own body and be empowered to work out with freedom!
Working out however you from the comfort of their own homes is how many of our Pilates Professionals and Ambassadors discovered their love for Pilates. Why not join them and give it a go? Don't miss out on your 14-day Dynamic Pilates TV Free Trial and start exploring!