In Short… Yes!
Pilates reformers could be what takes your Pilates workouts to a whole new level! The versatile and innovative Pilates machine can add a whole new dimension of fitness to your Pilates practice.
Dynamic Pilates is all about variety and creativity in your workouts, embracing different types of fitness, targeting different muscle groups, improving flexibility, and enhancing overall strength. Reformers are the perfect companion for exploring your love for Pilates with a wide range of unique workouts for all ages and abilities only possible on the reformer.
If you want to dive right into a great reformer workout, you can choose from over 600 unique on demand Pilates reformer classes online with Dynamic Pilates TV! If you are looking for your first Pilates Reformer Class or hundredth, you can discover the best Pilates reformer video for you in our Reformer Workout Category.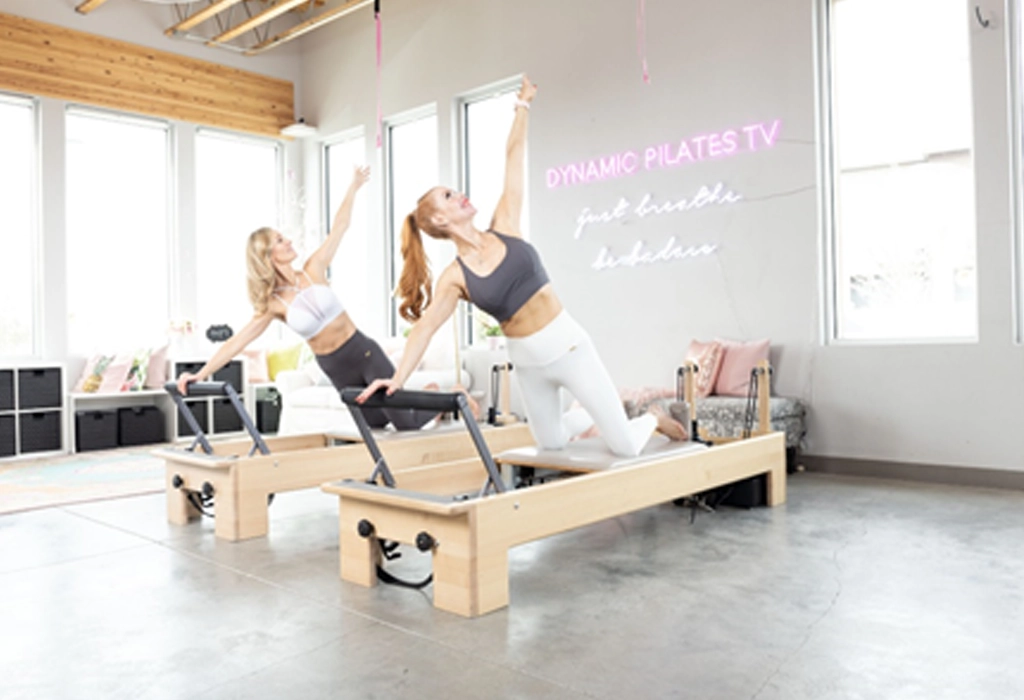 What is Reformer Pilates?
The Reformer Pilates Machine is a specialized piece of equipment for Pilates workouts. The different parts of the machine work together with your body to provide smooth motion for controlled movement and a more efficient experience with strength and flexibility training.
The average reformer consists of a sliding carriage, springs, ropes, pulleys, and adjustable foot and hand bars for a fully customized workout experience depending on your fitness goals. These elements create a dynamic experience with freedom of smooth movements for flexibility training and appropriate levels of resistance to build up and tone muscles.
How to Use Pilates Reformers
The sliding carriage is the element that you will use to hold your body weight during most exercises and can be combined with a Box or Pilates Arc for different workouts. The Ropes, pulleys, and bars are used in various ways for stretching and moving the limbs in different ways often with the addition of resistance bands, magic circle equipment, or even a Cadillac Tower reformer to extend your range of options and engage a new set of muscles during exercise.
Dynamic Pilates TV has over 600 videos showcasing different Pilates reformer moves and techniques with additional adjustments and set-up instructions included in each workout. The Reformer is so versatile that there are endless ways to explore new areas of fitness with this amazing piece of equipment!
What Workouts can you do on Reformers?
Reformers are unique and effective equipment for a range of Pilates workouts that can suit any fitness style or experience level. Some examples of different muscle groups and fitness types that reformer Pilates can target include:
Upper Body Reformer Workout
To tone the arms, shoulders, and upper back, various movements can be enhanced by using a Reformer. The ropes and pulleys work with your body weight in rowing motions that build up your shoulder muscles, which can be further enhanced with resistance bands or dumbbells. Chest presses, bicep curls, and tricep dips are combined with lower body movements and flexibility motions on the reformer to work the arms as part of a whole-body workout.
Lower Body Stretches
The movement that reformer workouts give your workouts can make all the difference for lower body exercise. Exercises like leg presses, lunges, and hamstring curls are extended for a greater stretch in the legs, glutes, and hips as the reformer machine moves with you creating new challenges for fitness development.
Athletic Reformer Pilates
Athletic Reformer workouts are a very popular category of workout that combines classic Pilates moves and contemporary flows for a full-body cardio workout. This type of reformer Pilates includes Captain Morgan and Flying Squirrel Pilates styles that target balance and stability by training the body for smooth, controlled movements with a range of equipment.
The reformer is key to many effective athletic Pilates workouts, working alongside your body and other equipment to add an extra oomph to your fitness! Similarly, if the reformer is added to your HIIT (High-Intensity Interval Training) workout, you can experience a new side to cardio fitness with greater resistance and controlled movements.
Barre Reformer
Pilates reformers are great for Barre Pilates practice as the machine is able to be set up according to your needs for the workout to isolate certain areas of the body and the sliding carriage makes repetitive movements easier. The rowing action taken with many reformer workouts is also great for the core, a major focus of Barre Pilates, the seated position of the carriage meaning that each movement engages the core to a greater degree.
Discover the Best Pilates Reformer Workouts Online with On demand Videos from Dynamic Pilates
At-home reformer Pilates is definitely worth it if you are looking to enhance your Pilates routine and overall fitness. The versatile challenge that a reformer can bring to your workout is unmatched and is sure to open up new experiences for movement and fitness.
If you are looking to start your journey with a Pilates Reformer you can discover our recommended Reformer machines or get stuck in with a 14-day trial of Dynamic Pilates TV for Free!