Incorporate these reformer inspired workouts into your training to strengthen and tone your body whilst at home, we cover Korin's key exercises from her latest "No Reformer, No Problem" class. This fun, 40 minute mat class is a lockdown-proof workout using sliders, lightweights and resistance bands to specifically target the muscles typically used with a reformer machine.
Inspired by reformer moves to give you peace of mind if you're missing your favourite Pilates Reformer class.
Four accessories you'll need.
These home gym tools won't shatter your purse, they take up next to no space and offer a world of varied movement possibilities:
1. A long resistance band
A little resistance goes a long way. This tool is a great way to replicate tension and resistance mimicking the springs you find on the reformer. We recommend Sweat Betty's long resistance band (1.5m x 15cm) – Korin uses the blue, medium strength resistance.
How can I use a long resistance band to replicate the reformer?
Korin mimics the footwork usually performed on the footbar, working her ankles, pelvic floor and core, pressing the band away whilst flexing her foot.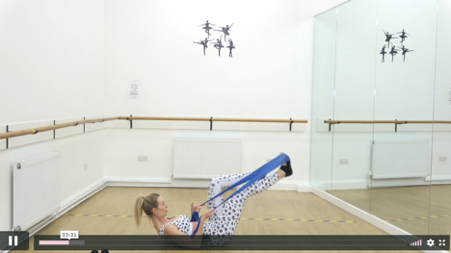 Arms in straps are also replicated, where Korin wraps the long resistance band under her back, as shown below. Korin mimics the feeling of pulling down the straps on the reformer with her arms, whilst she pulls on the band. You're able to add more resistance by shortening the band. You may not feel as much tension as you typically would with arms in straps exercises, but it's the same movement working similar muscles.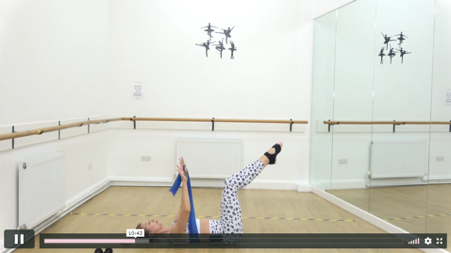 2. Sliders
Those tiny little discs, also known as gliders, can make even the simplest moves especially more challenging. Sliders are Korin's go to tool when replicating a dynamic reformer class. Korin uses these dual sided "Slided Gliding Discs" – they're portable and can be used on most surfaces at home, the gym, or when travelling.
How can I use sliders to replicate the reformer?
Korin demonstrates how the sliders help her glide across the floor, like how you would glide across the reformer carriage. Sliding your straight, back leg into a backwards lunge across the carriage or in this instance, the floor with the other foot remaining static. Super slow and controlled you're able to target the glutes, hamstrings, abs and hips. It allows a greater emphasis on both powerful hip flexion and extension on either leg, get ready to feel the burn!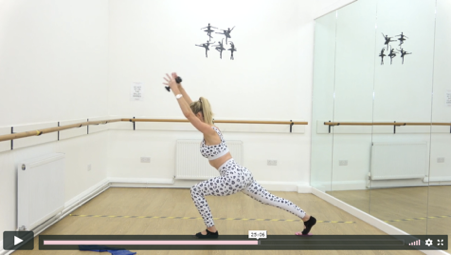 3. Lightweight dumbbells
Korin uses the 1KG/2lbs Fitness Mad Unisex's Neo Dumbbells lightweight, neoprene coated dumbbells that doesn't add too much tension to the upper body. Korin uses the lightweights to make the exercises slightly more difficult, ensuring her arms and back are performing – but you can add heavier weights or no weights if you prefer.
4. A pilates mat
Liforme is Korin's go-to pilates mat the eco-friendly, well gripped mat also has handy markers to help you position yourself evenly and help your teacher to see where you're at – genius!
We recently posted our tips on how to get motivated to workout, and suggested you wear the right gear so you feel good when exercising. We've had a lot of people ask what workout brand Korin is wearing. Its My Gym Wardrobe – Korin is wearing a Cova White Cheetah Sports Bra and matching leggings – the ultimate feel-good, fashion meets function kit.
Korin also sports Toesox, for extra comfort and grip – Korin is wearing the black Half Toe Plie Barre Socks.
We would love to know how you get on with this new class, please be sure to tag us on Instagram or Facebook!