There has never been a better time to invest in a Reformer. With people missing group classes and the feel of pushing off the footbar of an actual Pilates machine (a.k.a. a Reformer) – it's worth considering investing in one the same way you would a treadmill or an exercise bike, to keep up your studio practice at home. A Reformer at home will help you stay consistent with your workouts, continue your strength building, tone your body, improve your mental clarity and teach you how to use your breath – even during a lockdown! You will be able to enjoy the freedom to do Pilates day or night in the luxury of your own home. Dynamic Pilates TV looks into the best Reformer's currently available and provides pointers on what to look for.
5 things to look for when buying a Pilates Reformer:
1. Your body size
Ensure the size of the frame fits your body. Does the spring bar have multiple gear settings so it can be adjusted to accommodate?
2. Space
Find the best Pilates equipment for the space available. It's good to have a couple of feet of extra space along the sides and the end of the reformer, less extra space is needed at the top of the reformer. If you need to pack it away does it have wheels and how compact is it once folded?
3. Quality
Minimal maintenance is key, for example some Reformer machines use rubber cords instead of springs which may be ok in the beginning for basic, light exercises, but once you progress, you're going to need a more sturdy, hardworking Reformer.
4. Accessories
What does it come with? What accessories do you usually use? Are the accessories easily replaced?
5. Price
You get what you pay for. After working out on professional grade, high quality Pilates equipment in a studio, you may be disappointed with a cheap home model. You really will be better served to invest in something that will last you a lifetime at home with little or no maintenance.
What's the average price of a home reformer?
Home Reformer can average $1,000/ £775 – $6,000/ £4,621
What are the 3 best Reformers for home use?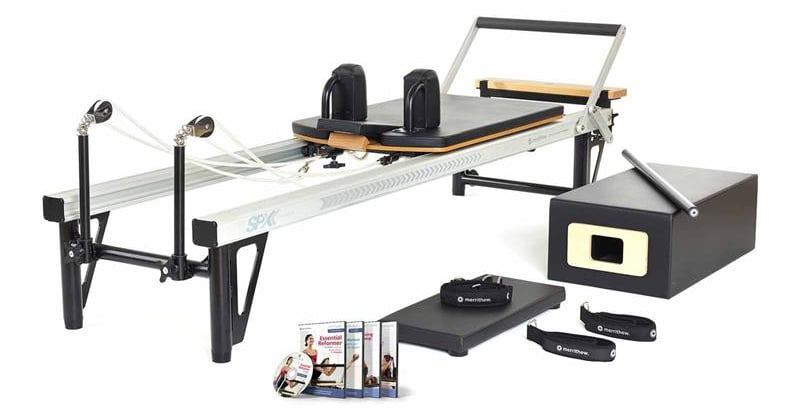 For DPTV owner Tiffany who is 5 ft 10 inches, this is "hands down the best home Reformer for your money, as it was made for home use. I fit best on the Studio Reformer, the carriage and frame size is a bit bigger than most. The Balanced Body Studio Reformer also comes in a "stretch" length with 6 extra inches on the frame. The spring bar on all Balanced Body Reformers have multiple gear settings, meaning it can adjust to accommodate the smallest of bodies to the tallest. Which is hard to find with most Reformers! I've had my Reformers for 10 years and they have needed minimal maintenance."
A brand known for its innovative design, Balanced Body designs it's Reformers with today's group reformer classes in mind, the Rialto packs all the necessary professional-grade features. Tiffany especially likes it's a quiet carriage ride, quick-adjustment ropes and cleats, and 3 position shoulder rests. The Rialto Reformer also comes with an added accessory, the Sitting Box Lite, for prone exercises, new abdominal exercises, side stretching and seated exercise, and a foot strap to secure feet while exercising.
Price: $2,795.00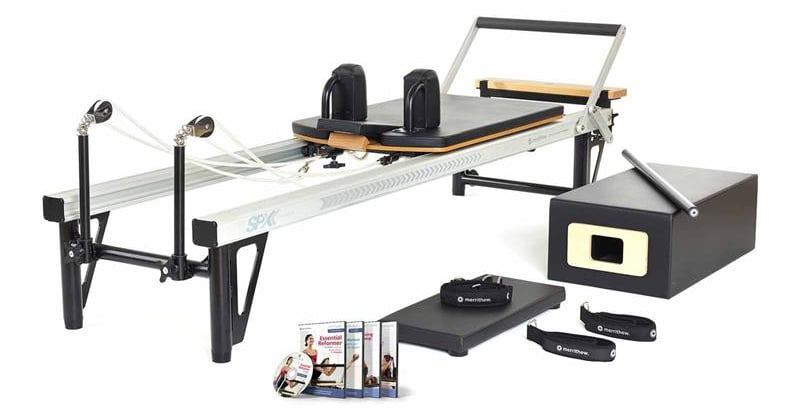 The Merrithew Reformer is DPTV owner, Korin's Reformer brand of choice – "I particularly love the platform extenders, which allow for added stability in standing work and greater range of exercises, especially when adding the jumpboard for example. These machines are also super slim, making them ideal for home use."
The Elevated At Home SPX® Pilates Reformer is 16.25 inches (41.3 cm) high from the floor, increasing accessibility and comfort, and making it ideal for people with injuries or mobility issues. Merrithew provides packages with all of the accessories you need for the maximum performance and versatility. The Elevated At Home SPX Pilates Reformer includes:
Reformer Box with Footstrap
Padded Platform Extender
Metal Roll-up Pole
instructional DVDs featuring over 250 exercises
And delivered 90% assembled, it's less daunting to put together and get started.
Price: $3,999.00

If space is an issue, the Pilates F2 Folding Pilates Reformer is for you. The Align-Pilates F2 Folding Pilates Reformer was developed to allow you to exercise at home without requiring a large dedicated space, you can simply unfold, get your workout done and then fold, wheel away and compactly store your Reformer. The F2 features the same springs as the professional Align Pilates Reformers. These springs offer smooth and progressive resistance with a range of adjustments to fine tune the Reformer for your workout.
Price: £1,199.99
We would love to see your home Reformers, be sure to tag us on Instagram or Facebook. If you have any further questions on buying a Reformer, feel free to get in contact, we would love to help! 
If you liked this blog post you may also be interested in reading the following: