What Can You Get with the DPTV Pilates App?
The Dynamic Pilates TV App and website provide you with a huge collection of digital Pilates videos on-demand. Whether you are new to Pilates or just looking for a new Pilates challenge, you'll find so many things to love with our Pilates App.
The Best Pilates App for Your Busy Schedule
With hundreds of on-demand videos of various lengths, you can fit in your Pilates at home workout around other responsibilities. Carve out a bit of me-time from your busy schedule to really focus on your body and give yourself the workout you deserve. Any length of exercise releases endorphins and other 'happy' hormones to give you the focus and peace of mind to face the rest of your day.
Easy to adapt to whatever device you have available at the time, no matter where you are. Simply download the app and log in to gain access to your list of favourites and in-progress on demand Pilates videos and pick up where you left off on the tablet to watch on your Smart TV.
How to Download and Sign up for Your Free Trial of Pilates Classes
Our Pilates app is free to download from the Apple Store and Google Play Store, simply click these links or search "Dynamic Pilates TV" in the search bar.
Signing up for your 14-day Free Trial unlimited Dynamic Pilates TV subscription gives you access to hundreds of hours of Dynamic Pilates at your fingertips. Explore the different categories find the best online Pilates instructors for your style and discover why thousands of women around the world love Dynamic Pilates TV.
For the best value, you can choose a yearly membership that gives you full access for 12 months for $18.16 per month, or pay monthly for $18.99. You can cancel or pause your subscription at any time, giving you flexibility and freedom around your workout scheduling.
If you have any questions about the subscription and payment processes, visit our Dynamic Pilates TV Subscription FAQ or contact our support team.
Guide to the DPTV Dashboard
The DPTV app has an intuitive and accessible dashboard that provides you with an easy way to discover new styles of Dynamic Pilates and find your old favourites.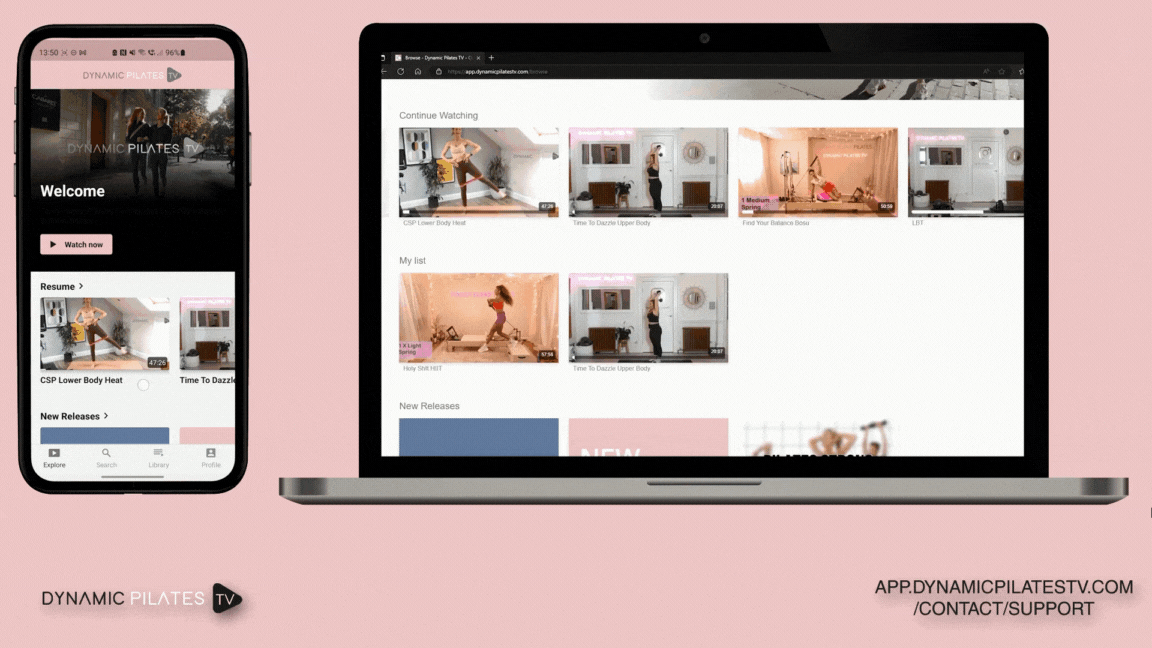 For a full visual guide of how to use and explore our digital Pilates dashboard, you can watch our handy instructional video in the "DPTV How To Series".
New Pilates Releases
With multiple brand new on demand Pilates videos released each week, you'll never run out of exciting new workouts to explore. These new releases are easy to find, with their own category at the top of your dashboard so you can stay up to date with our workouts.
Special Series
Additionally to these new releases, we offer a range of special series that are targeted at different techniques and intensities of Pilates. You can access our archive of previous special series that are a favourite to return to for many of our subscribers, but also keep up to date with ongoing series as new additions are made each week.
Find your instructor
We are proud to host dozens of internationally recognised Dynamic Pilates instructors on our platform. Bringing together expertise and personalities from around the world creates a fun and diverse selection of video workouts to explore and enjoy.
You can easily browse by instructor on the dashboard to find all their videos and collaborations with others so you can find the best combination of teachers for developing your flexibility, strength and fitness.
Stream on Any device
The DPTV app and casting capabilities give you the opportunity to watch on a range of devices. In developing DPTV we wanted to provide our subscribers with the most freedom to experience Pilates in their own way no matter the technology they have available.
You can watch DPTV on demand Pilates videos on:
Web browsers including Chrome, Firefox, Safari, and Microsoft Edge
TVs with Chromecast
Most Smart TVs with web browsers
Mobile devices including phones and tablets using the Android or iOS app
Apple TVs via Airplay and device mirroring from iOS Device or macOS Desktop
For detailed guides on using the DPTV app with these devices please read our How to Watch FAQs.
Save and Sync Videos for Easy Access
Once you are part of the DPTV community you can begin to build a dedicated list of your favourite videos or any that catch your eye to personalise your fitness experience.
The "My List" section (listed within the library tab on the DPTV App) is a place to store the videos that you just can't wait to come back to or explore in the future. Easy to edit and add to as you discover more content that appeals to you, customising your Pilates workouts has never been easier!
With the app, you can also download any of our videos so you can easily access them wherever you are. Have them ready to go when you have a break without worrying about connectivity issues, they're right there on your mobile device.
Ready to give it a go?
Now you know what the DPTV App gives you, so why not give it a go and claim your 14-day Free Trial today?
If you have any more questions about Dynamic Pilates TV before you sign up or are experiencing any unaddressed problems as an existing or new user, please visit our FAQ page or contact our help center and we'll be happy to get back to you ASAP.